Services
We offer a full line of pool and spa services, such as equipment repairs, liner replacements, weekly and bi weekly maintenance of residential and commercial pools.  
Here are a few brands of Vinyl Liners that we proudly carry.
The Vinyl Works from Imperial: Interior Pool Finishes
An Exact Fit for Your Pool. A Perfect Match For Your Style.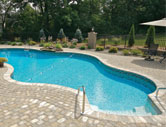 One of the most important features of your pool is its interior surface, which is why we offer finishes that provide upscale beauty and peace of mind for years to come.
Our interior pool finishes are soft to the touch, resistant to ultraviolet rays and bacterial growth, and custom-manufactured for an exact fit. They are also far easier to clean than other surfaces, meaning less time working on your pool, and more time swimming in it!
The World's Finest Pool and Spa Products by Merlin Industries.
At Merlin Industries, Inc. one thing drives everything they do, our passion to provide the world's finest pool and spa products.